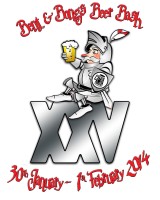 We have made a few changes to the 2014 sponsorship package, specifically around the Thursday sponsors' hour / tasting session.  If you are a regular festival sponsor it is really worth your time to read this post so that you know the new format.  We think it's better.  We hope that you do too.
The standard package for 2014 includes the following:
– 10 tickets for general admission at any session including the early doors 5pm Thursday sponsors' only session
– £10 of beer tokens for anyone attending the 5pm – 6pm Thursday sponsors' session (N.B. This is the different bit!!!)
– Your name over a barrel
– Your name and details in the festival programme and linked from our website
The price for this standard package is £125.
We are happy to provide a receipt for this so that you can take it as a cost through your business accounts.
Sponsors Old and New – This is How the Thursday Session is Changing
The format of the Thursday 5pm – 6pm sponsors' only session will be different in 2014.  The big difference is that the beer is no longer free.  Whooooooooooaaaa!  What?  No free beer?  Well, not quite.  Here's how it's going to work …
Admission to the Thursday session is by sponsor ticket only.  Anyone coming through the door between 5pm and 6pm on Thursday will be given a £10 sheet of beer tokens.  These tokens work just like every other session, in that you can buy beer with them.  So while we will be charging for the beer during the sponsors' hour, we're giving you your first £10 free.
We believe that this is a better way to organise things.  You still get your free beer and the tokens don't expire at 6pm when the session opens to the public.  So you don't need to feel like you need to drink a lot in that sponsors' hour to get your money's worth.  We'll go on accepting those tokens all through Thursday night.  The only difference between the sponsors' tokens and regular tokens is that you cannot cash in the sponsors' tokens when leaving the festival, so be sure to use them first.
What happens if/when your tokens run out?  Worry not.  We will have the token desk open from 5pm for selling the regular tokens.  This way, if you do want to try the most expensive beers early the choice is yours.  You can top up your token supply any time you want, or as soon as the free ones run out.  You can use your free tokens up quickly, or you can savour the taste of every mouthful and stretch them out well past 6pm.  The choice is yours.
Are There Any Other Sponsorship / Advertising Options?
Absolutely!
If you want to do something a bit grander, get in touch with us at sponsors@bentnbongs.com and we will talk through the options with you.  If you want to, you can sponsor the festival bars, the glasses, the entertainment and even the token sheets.  Let us know what you have in mind and we'll see what we can do for you.  The key difference to doing something like this is that it gives your business much more exposure.  We are more than happy to string up your banner near whatever it is you are sponsoring.
Similarly, if the standard package is a bit too much for you but you might consider doing something a tad smaller, again get in touch and we will see what we can arrange.
For the 2014 festival we are also able to offer advertising space in the festival programme.  The costs range from £65 for a quarter page to £300 for the back cover. This can be an excellent way to promote your business. Around 4,000 people pass through the festival each year, give-or-take.  That's 4,000 potential customers who could be seeing your advert. 4,000 people, most of them local and most of them with a passion for beer, drinks, music or just nights out with friends. You do the math, but with those kinds of numbers, at £65 for a quarter page you don't need a huge percentage take-up to recoup your spend or to generate a good return.
If you want to take out a sponsorship package for 2014, just download our sponsorship form, fill in the details and send it back to the address shown.  If you are interested in doing something a bit bigger or a bit smaller, please get in touch with us by emailing sponsors@bentnbongs.com and we'll take it from there.  Or if you want to know more about advertising in the programme email advertising@bentnbongs.com and we'll get straight back to you.
Thanks, as always, for supporting the festival and in doing so supporting the charities that we support.